Posted by Kenny Condom on Sep 26, 2016
If you are "extra large" and you are not comfortable with standard condoms, the best place to buy extra large condoms is online. At CondomSales.com.au, we offer extra large condoms for sale online from both Four Seasons and GLYDE HEALTH. We are going to tell you more about them, but first we would like to explain why they may be necessary.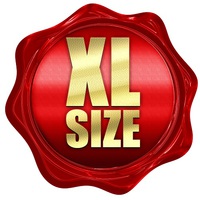 Condoms are 99.5% successful, both for birth control and for STI prevention. Basically, the only time they don't work is if they break or if they slip off. If a condom breaks or slips off, it is usually due to one of two reasons. The condom is either the wrong size or it is too cheap. We take care of the quality issue by only carrying condoms from the best manufacturers. Here's how to take care of the size problem.
Why Size Matters
Condoms have been sold for years as a "one size fits all" product. For the most part, a condom can be stretched over any sized penis. However, this doesn't make it the right size. If a condom is too tight, it can easily break. If it is too loose, it can fall off. This is why it is extremely important to use the right sized condom.
So, how do you tell if you need a larger condom? If a standard condom is too short, too tight or too difficult to put on, you should start experimenting with a larger condom. If you have ever broken a standard condom, you should try a larger one.
Buy Extra Large Condoms Online
We carry extra large condoms in bulk or in standard quantities. Four Seasons Larger and Four Seasons Naked Larger are available in packages of 144 bulk or 24 standard. GLYDE SuperMax are available in quantities of 100 bulk or 24 standard.
To buy any of our condoms online, simply find them using the guide on the left side of the home page and click "buy now" or "add to cart."