Posted by Kenny Condom on Aug 31, 2016
If you are going to buy condoms online, you might as well buy the right size. But wait, you say: doesn't one size fit all? In a pinch, yes. But if you want maximum comfort and sensation while having sex, having the right sized condom will go a long way towards enhancing your sexual experience.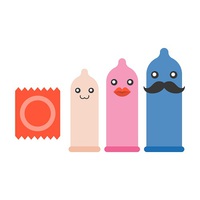 For example, we sell Ansell condoms in three sizes: closer fit, medium and large. We sell them in bulk lots of 144 at a substantial savings compared to buying smaller quantities.
But what if you don't want to experiment? You can always measure the circumference of your penis to figure out what size to buy. Use a piece of string and a ruler to obtain your measurement. With Ansell condoms, the formula is simple. If your penile circumference is 114 mm or less, use the closer fit. If it is 130 mm or larger, use the large size. Anyone sized from 115 mm to 129mm can use a medium.
Selecting the right size can make a big difference in the sensation you feel while having sex. Also, there can be consequences for using the wrong size condom. If your condom is too small, it might break. If it is too large, it might fall off. Most high quality condoms are going to perform OK anyway, but why take a chance? Besides, finding the right size can make a big difference in how much you and your partner enjoy your experience.
Buy Condoms Online
If you would like to buy condoms online, you are in the right place. We have a great assortment of condoms and other sexual health products such as female condoms, dams and lubricants. We ship your order discreetly in standard post packets that don't mention our name or the name of any of your products.
To buy condoms, browse until you find the condoms you want. Then, just click "buy now" or "add to cart" and follow the prompts from there.