Posted by Lexi Abner on Aug 05, 2019
A young woman walks around the cobbled streets of Prague and suddenly a strange off-camera guy comes up to her and offers hard currency for her to show him something. Shyly, the girl agrees. More money. More show and tell, and suddenly she is having unprotected sex in a secluded park. Czech streets… fantasy or reality?
And should fantasy be responsible fantasy?
Why Don't Pornstars Wear Condoms?
Well, some do. U.S. high end studio Wicked Pictures is condom only because specifically to make a statement on safe sex. No glove, no love. Others such as Vivid will shoot using condoms if the performers request it.
A Few Reasons Why Pornstars Don't Wear Condoms
The reasons why most pornography doesn't feature condom use becomes cloudy. There's a belief people won't watch or buy porn if they use a condom because it destroys the fantasy
There are some practical reasons. Your finished 10 minute fast cut sequence of hot video action, probably didn't involve just 10 minutes of hot action, rather a lot of stopping and starting, repositioning cameras (and actors), and breaks to re-light a scene.
All of those interruptions make condom use more challenging. They move, wrinkle and are more prone to breakage during this rather unnatural situation which they weren't entirely designed for.
Many stars say that the friction caused by latex against delicate skin for hours (which is what a scene make take to shoot) can painful, cause abrasions in sensitive areas which increases the risk of, and exposure to STDs on set.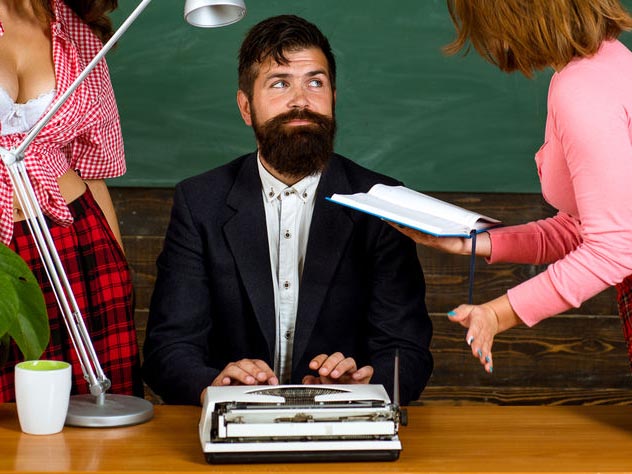 Unlike your hot Tinder match, these sex partners come with a guarantee
Because of the mandatory testing for talent, a porn set is also claimed to be one of the least likely places to contract an STI.
Actors must undergo testing as often as every two weeks, depending on how many scenes they're doing. If an actor tests positive for an STI, they're done working until cleared.
Result, they lose money, so it's in talent's best interest to practice safe sex off-screen. It's a business and most involved treat it that way.
What Pornstars say about wearing condoms?
Tom Byron, veteran porn star/director/producer:
" How about spray on condoms? You spray on a liquid latex solution that hardens and you peel it off when you're done. You could call it Condom in a Can."
Misty Stone, once labelled the Halle Berry of porn:
" As the old saying goes, If it ain't broke, don't fix it. I think they've done incredible things with the condom. I wouldn't change a thing baby, well maybe one little thing. How about a condom, or the wrapper, made with hemp?"
Everything has risks, and the reality is the real world contains STIs and the chance of unwanted pregnancy. Sex with strangers in porn still has risk, but it's been mitigated. It's a business. And if talent were catching STIs left right and centre, well that would be terrible for money making, and porn is foremost a commercial endeavour.
Which is why you shouldn't copy the fantasy world too closely. In real life you're better to be prepared. It's simply safer to use condoms.
Remember porn is fantasy, not reality. Unless perhaps you live in Prague.
Condoms Here at CondomSales
Keep your fantasy safe. We cater to all your condom requirements! Purchasing direct from us means you get the best range of condoms in Australia, better value for money, and you'll have them mailed in secure, discrete packaging straight to your door. See what you need? Just Click the buy now button, couldn't be simpler.
For wholesale enquiries please contact us here.