Posted by Kenny Condom on Jul 04, 2016
Our assorted condoms package is becoming popular with customers across Australia. If you are new to using condoms or if you are just starting to pay more attention when you do use them, you may be curious about a lot of brands. There are lubricated condoms, ribbed condoms, GLYDE condoms and so many others that it can get confusing.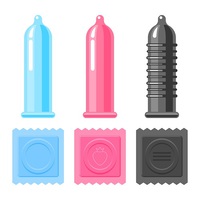 We try to give you as much information as we can about condoms and all of the products we sell online in Australia. We know that can get confusing sometimes. We also know that nothing beats experience.
There isn't a condom that is perfect for everyone. Everyone processes sex differently. Some like condoms large, some small. Some like them lubricated and some don't. Some want them as thin as possible while some want them thicker and less sensitive to delay orgasm. Some are slow and sensuous, while others are so intense that a regular condom might not work for them.
That's why we offer a package of 24, loose-packed, assorted condoms for only $18.95. This allows people to try a wide assortment of condoms and opens them to experiences they may not have had before. At the very least, you will know what some of the variations and brands feel like. And you never know: you might find a brand that you absolutely love and had no idea existed before buying the assorted package.
What You Get
In your assorted condoms package, you will get at least six different brands of condoms. This will include Ansell Condoms, GLYDE Condoms and Four Seasons Condoms. They will all be regular sized condoms.
Most of all, packaging is discreet. If you have never bought condoms online, don't worry. They will arrive at your door in a plain package that has no reference to this website or the products inside. That way, what happens in the bedroom stays in the bedroom.
To Buy Condoms Online
To order, all you have to do is to go the page of the item you want and click add to cart or buy now. Then, follow instructions and your condoms will arrive at your door, ASAP.