Posted by Danny Achurch on Aug 20, 2019
The Female Condom (FC2), the Unique non-latex male condom and the Glyde Ultra Condom are among the key products offered by Australian company GLYDE Health. GLYDE has the most comprehensive product range of any sexual health company. It manufactures its own brand of latex condoms, barrier dams, and personal water-based lubricants.
GLYDE HEALTH: One Stop Shop for Sexual Health Products
GLYDE operates as a "one stop shop" for sexual health products and is proudly 100% Australian owned and operated. Whilst 100% TGA approved, all of their products are suitable for vegans with the company being also approved by the Vegan Society International organisation.
Innovative GLYDE Sexual Health Products
Made in Malaysia from ethically sourced latex, GLYDE's high quality condoms have been available in Australia since the brand was launched in 1990. The condoms are available in four condom sizes and a variety of colours and flavours. While extra sheer, the condoms are very strong, with patented double dip technology being used in the manufacturing process. This ensures GLYDE condoms don't have an unpleasant latex taste and smell.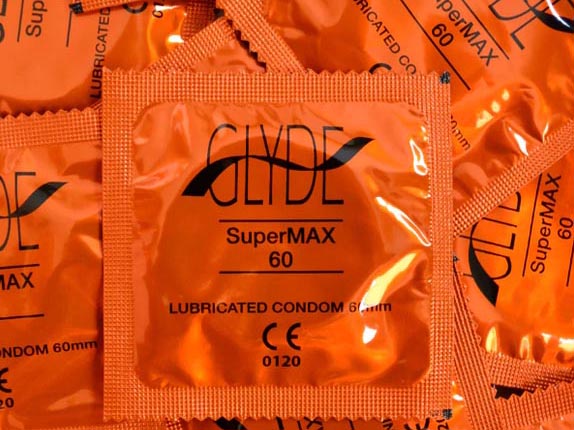 Among other innovations, GLYDE were the first company in the world to manufacture the largest condom on the market - the GLYDE SuperMAX (60mm), introduced in 2015.
GLYDE were also the first sexual health company to recognise, manufacture and promote the use of water based lubricant with latex condoms. Today, GLYDE's Premier lubricant is the lubricant of choice for many consumers.
The Dental Dam Proven to Prevent STIs
The latex barrier dam - the SHEER GLYDE dam, developed to help prevent transmission of STI's during oral sex is another revolutionary product, and is available in four colours and flavours. Although the product has been copied by other manufacturers, GLYDE's dam is still the only one of its type ever to have been laboratory tested and proven to prevent transmission of STI's.
GLYDE Health is a company that really cares about the sexual health of all Australians. Remember: " Play Safe, Don't Forget Your GLYDE's".
Condoms Online Right Here at CondomSales
Because of GLYDE's close relationship with CondomSales as their favourite online reseller and Western Australian Distributor, we can offer their products conveniently and confidentially at super prices. Two Australian companies working together for Australians!
For wholesale enquiries please contact us here.