Posted by Kenny Condom on Feb 24, 2017
If you are looking for a Four Seasons Condoms wholesaler, you have landed on the right page. We offer Four Seasons Condoms wholesale in 18 different sizes and flavours. They come in quantities of 144 condoms and are sent to your home in Australian Post registered satchels. The satchels have no mention of the products or the website name. It is quick, easy and discreet to order condoms online from CondomSales.com.au.
Here's our current availability for Four Seasons Condoms wholesale.
Four Seasons Naked Closer Fit 49mm Condoms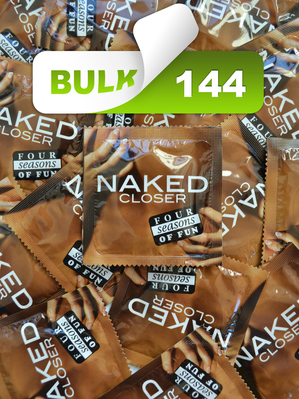 These condoms are slim for a tight fit, ultra sensitive and lubricated. Our tightest size.
Four Seasons Naked Shiver 54mm Condoms
This is a slightly larger than standard fit condom with the Four Seasons pleasure-enhancing additive called "Shiver." It will make you shiver up and down your spine.
Four Seasons Naked Super Fit 56mm Condoms
This is the second-largest Four Seasons condom. It is made for people with larger penises. Designed for sensitivity while remaining strong.
Four Seasons Naked Larger 60mm Condoms
If you are a giant, this is the condom for you. It is the largest condom made by Four Seasons.
Four Seasons Extra Strength Condoms
Extra strength condoms are thicker than standard condoms. This not only keeps them from breaking under extreme conditions, but it also makes you last longer because they are less sensitive.
Four Seasons Flavoured Condoms
Four Seasons Flavoured condoms come in Cola, Grape, Chocolate, Strawberry, Banana and Bubblegum flavours. They are strong, sensitive and great for oral fun.
Four Seasons Naked Ribbed Condoms
Four Seasons Naked Ribbed Condoms are so sheer that you may forget you are wearing a condom.
Four Seasons Studded and Ribbed Condoms
Four Seasons Studded and Ribbed Condoms have studs and ribs for heightened stimulation.
Four Seasons Condoms Wholesale: Added Discounts
Not only are Four Seasons Condoms available in the wholesale quantity of 144, we offer discounts for multiple packages. Two packages save 15%, four packages save 20% and orders of ten or more packages of 144 Four Seasons condoms receive a 25% discount.
You can order online here. If you have any questions, use the "contact us" link.