Posted by Kenny Condom on Jun 03, 2016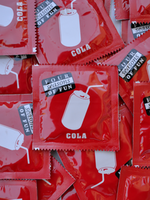 Flavoured condoms may seem unnecessary, but they can bring a lot of "flavour" to your sex life. Flavoured condoms are meant for one thing and one thing only: oral sex.
It's safe to say that the pleasure is only going one way in oral sex. The person getting the oral sex is having a lot more fun than the person who is giving it. Then there is the issue of ejaculation. Some people just don't like the taste of semen.
To prevent the spread of STD's, condoms are essential. But, as you see above, there are even more reasons to use flavoured condoms. Here are a few of them.
The Flavoured Smell
We offer Four Seasons Flavoured Condoms in an assortment of flavours, such as chocolate, strawberry and banana. Not only can your partner taste the flavours, they can also smell them. If your partner really likes one of the flavours we offer, she or he will associate pleasure with performing oral sex.
Penile Odour
Let's face it, guys: not everybody smells all that great "down there." In this case, as well, it goes back to smell. The smell of a flavoured condom will often overpower any bad smells in the genital area. At any rate, they can make the smell a bit less intense.
Remember: when your partner is having fun, you will have fun.
The Taste
Flavoured condoms taste good. It's a matter of finding the right flavour, If you can find a flavour your partner is crazy about, it will make you very happy.
About Four Seasons Condoms
Four Seasons Condoms are an Australian owned company and a leader in thinking out of the square, often pioneering unique sexual health products, including their "Naked" line and larger sizes for comfort.
Buy Condoms Online Across Australia
On our website, you can buy condoms in the privacy and comfort of your own home. They will be delivered in discreet packaging for your privacy. If you find something you like, just click "Buy Now" or "Add to Cart."