Posted by Kenny Condom on Mar 02, 2016
We have worked hard to develop a great reputation as a place where people can buy condoms online and feel safe doing so. We only carry the highest quality condoms and always buy directly from the manufacturer. We deliver them to you discreetly and promptly. And we always package them securely so that they arrive at your home intact.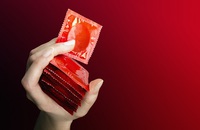 An incident from last year makes it even more obvious that you must always buy condoms from a trusted source. Condoms with Durex branding showed up on Groupon Australia. They included the "Thin Feel," "Extra Safe" and "Performa" lines. Not only were they found to be counterfeit; they were also found to have holes due to imperfections in the materials used for manufacturing.

Groupon Australia confirmed that the condoms were, indeed, counterfeit. They had to contact all of the customers who have bought condoms from the seller, telling them that the condoms were "recalled." They even gave refunds. But what if there were unexpected pregnancies or diseases were spread due to the faulty condoms?

Always Buy Condoms From a Trusted Source
When representatives from Groupon Australia were asked whether or not the merchant, Citrus Beat, had been vetted properly, they didn't really answer, saying "an investigation is underway."

Fake condoms are even more prevalent in China, where 2 million counterfeit condoms were found in 2013 alone.

This is why you need to buy condoms from a trusted source. The risks are simply too high. If you are reading this piece, you already know, but condoms protect you from STI's and are still the most effective means of birth control for those who are biologically able to produce children. Condoms that are correctly used are effective more than 99% of the time, according to many studies.

But they have to be the real thing. The best way to make sure you are getting exactly what you are paying for is to buy your condoms here at CondomSales. Our condoms always come directly from the manufacturer and are delivered safely and discreetly.

Use the order page on this website or call us on 1300 4 CONDOMS (1300 4 266 366).