Posted by Kenny Condom on Mar 09, 2017
If you would like to buy GLYDE Condoms wholesale online, you are in the right place. We have been selling GLYDE Condoms wholesale online for a long time now. They are one of our favourite and most high-quality companies to work with.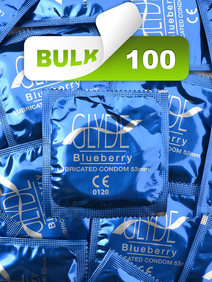 GLYDE Condoms are manufactured in Australia to exacting standards with the highest quality latex. GLYDE Condoms are double dipped and double washed to create a condom that is exceptionally strong without increasing the thickness or dampening the sensation. The result is a sheer, ultra fine sheath. One of the more pleasant by-products of double washing is that GLYDE Condoms don't have that "latex smell" or taste that can ruin a great night.
GLYDE Condoms are sold in lots of 100 at wholesale prices. They start at a slim fit of 49mm and go up to a super max fit of 60mm. They are available in flavours such as blueberry, cola, strawberry, vanilla and wildberry. All GlYDE condoms are lubricated.
In other words, there is a great assortment of one of the finest brands of condoms available in Australia.
GLYDE condoms are manufactured to the highest standards. They are Australian owned and operated. They are committed to manufacturing products that don't harm the environment. They also are committed to not harming animals. Their products are 100% vegan friendly.
Why Buy GLYDE Condoms Wholesale Online?
If you are sexually active or, part of an organisation that helps prevent STI's an unwanted pregnancies, or a sex worker, it makes sense to buy condoms wholesale. When you buy from us at CondomSales.com.au, your privacy is always protected.
Your condoms are shipped discreetly in plain postal satchels or protective parcels with no mention of CondomSales.com.au or the merchandise packaging anywhere. It's quick, easy and discreet. The most efficient way to buy condoms is to buy them online.
Buy GLYDE Condoms Wholesale Online Here
If you would like to buy condoms, retail or wholesale, any brand, feel free to order today right here from CondomSales.com.au.