Posted by Kenny Condom on Jun 29, 2017
If you are looking for GLYDE Condoms wholesale, you have come to the right place. You can buy your GLYDE condoms wholesale online right here at CondomSales.com.au. And the best part about buying GLYDE condoms wholesale here is that you don't have to be a big business.
We provide GLYDE Condoms wholesale to businesses, social organisations and sexually active individuals who want to have a good supply of condoms on hand without paying an arm and a leg for them. While an ever-changing market and circumstances prevents us from mentioning prices in our blog posts, we can tell you that you will definitely save money on GLYDE Condoms when you buy them from us wholesale compared to any retail prices anywhere.
GLYDE Condoms Wholesale: Our Selection
We provide a wide variety of GLYDE Condoms at wholesale prices in packages of 100. Flavoured GLYDE Condoms are available in cola, blueberry, strawberry, wildberry and vanilla. We offer four different sizes. Slim Fit 49mm, Ultra 53mm, Maxi 56mm and Super Max 60mm.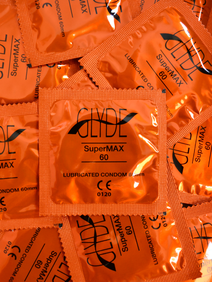 Why Buy GLYDE Condoms Wholesale Online?
There are numerous reasons businesses and individuals choose to buy GLYDE Condoms from us at wholesale prices. We have sold condoms wholesale to medical facilities, charities, social outreach centres, brothels and to people who just like to enjoy themselves.
We have even seen enterprising individuals set up their own little businesses in college dorm rooms. If you are sexually active, it is great to know you have plenty of condoms available to you at a moment's notice. Besides the discount, buying in bulk means you don't have to buy as often or worry about running out.
Check out our selection here on CondomSales.com.au. Feel free to browse around the site. If you want to buy condoms, wholesale or at retail prices, simply add the items to your cart and pay for them when you check out. They will be delivered in plain packages, discreetly and quickly.