Posted by Kenny Condom on Jul 04, 2017
If you are looking for Four Seasons Condoms wholesale, you have definitely come to the right website. We offer a wide selection of Four Seasons Condoms in wholesale quantities and you don't even have to be a business to qualify for the bulk discount.
We provide Four Seasons Condoms in wholesale quantities to many different businesses, social organisations, charities and individuals. There are many reasons for buying condoms in wholesale quantities and we are more than happy to make it quick and easy for you.
Varieties of Four Seasons Condoms Available in Wholesale Quantities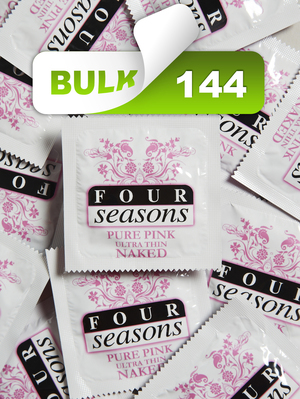 We offer three different brandings of Four Seasons Condoms: NAKED, Four Seasons of Fun and Four Seasons.
NAKED are available in bubblegum, chocolate and pink strawberry. They are also available in Closer 49mm, Standard 54mm, Super Fit 56mm and Larger 60mm sizes. We also carry NAKED Shiver condoms and the NAKED Ribbed condoms.
The Four Seasons of Fun line is available in cola, grape and banana flavours. They are also available in Studs and Ribs and the Larger size.
The Four Seasons line is available in Regular, Glow 'n Dark, Pure Pink and Extra Strength.
Due to an ever-changing market, prices can fluctuate, but you will find some deep, deep discounts here when you buy bulk condoms.
Buy Bulk Condoms At CondomSales.com.au
Whatever variety you prefer, you won't find a better place to buy condoms online than right here: CondomSales.com.au. Not only do we have the best condom prices online in Australia, we also have the best customer service.
Wholesale Purchases: Simply phone us on 1300 4 CONDOMS (1300 4 266 366) and we'll help you through the process.
Retail Purchases: The ordering process is easy for retail quantities. All you have to do is find items you want, add them to your cart and check out. That's it. No hassle. No waiting in line at stores for three condoms at a time. We provide great prices for you with no hassle.
We are also discreet about sending you your condoms. They will arrive at your business or home in plain postal satchels. The satchels don't mention CondomSales.com.au, condoms or any brand names. Your order is confidential.
Place your order now. Just once. You will never buy condoms any other way again.