Posted by Kenny Condom on Apr 21, 2017
Whether you are looking to buy GLYDE Condoms wholesale or you are just looking for a few condoms online, size matters. We know condoms are, loosely speaking, one size fits all. But you would be surprised at how much of a different the perfect fit makes.
We sell GLYDE Condoms wholesale in four different sizes. The slim fit is 49 mm. The ultra is 53 mm. The maxi is 56 mm and the super is 60 mm. So, how do you tell what size is for you? Remember that the condom has to fit snugly enough not to fall off during sex, but not so tight that it becomes uncomfortable.
Here's how to find out which condom size is right for you. First, you will need some string. You will use that string to measure your penile circumference. Wrap the string around your erect penis and cut it accurately to your circumference. Lay the string on a ruler or measuring tape to find your penile circumference.
After that, it's easy. If your penile circumference is 114 mm or less, use the slim fit. If it is from 115-124 mm, use the ultra fit. If it is 125-144 mm, use the maxi fit. If it is larger than 145 mm, use the super fit.
We Sell GLYDE Condoms Wholesale and Retail
If you like buying your condoms in bulk and feel confident of your measurements, feel free to order the size you have determined. Some people like to make a smaller order like a dozen or so to make sure the fit is OK.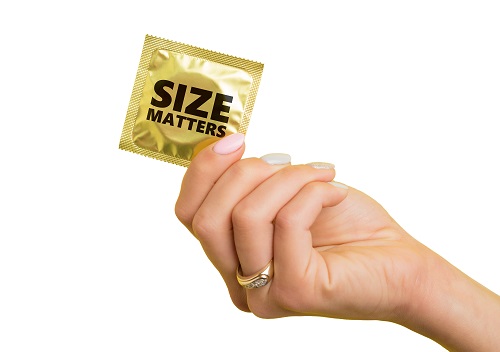 Why Condom Size Matters
Condom size matters for a lot of reasons. First of all, as mentioned, if it is too loose, it can fall off during sex. But if it is too tight, it can break. It doesn't happen often, but it can. Most of all, though, everyone has one "magic size" where sex is as mind-blowing as it can be without condoms because it is the perfect size for comfort.
This enhances not only your experience, but that of your partner, too, because you perform better. One size may fit all, but the best size is the one that is right for you.