Posted by Kenny Condom on Oct 10, 2016
There are plenty of great ways to have sex, but nothing feels quite like the act of intercourse for either gender. While it's nice to be great at oral or handiwork, it's even better for her if you can hold out long enough to satisfy her while you are inside of her.
While we offer a wide range of condoms online, we also offer a lot of great products that can do along with condoms, such as lubricants and "toys." One of our more popular products for enhancing sex is Pjur Superhero Performance Spray.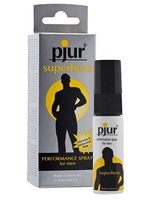 Pjur Superhero Performance Spray is designed to reduce the sensitivity of your penis. This allows you to perform longer without having an orgasm. This is extremely helpful if you tend to have your orgasm before your partner has a chance to.
All you have to do is spray Pjur Superhero Performance Spray on your penis before intercourse. It reduces sensitivity and allows you to go longer. It also increases suppleness and refreshes the genital area. It enhances and prolongs pleasure for your partner and also enhances your experience, giving you a longer "plateau" stage.
Pjur Superhero Performance Spray comes in a 20 ml container. If you buy three or more, you can save 25% on your order. Pjur Superhero Performance Spray is safe to use with condoms. For your safety, it does not contain lidocaine or benzocaine.
Why Buy Condoms and Enhancement Products Online?
The biggest reason to buy condoms online is that it is discreet. It's nobody's business if you want to buy condoms, lubricants, enhancement products or "toys" such as vibrators or rings online.
When you order condoms from us online, nobody knows about it but you. We guard your information and your privacy because we believe your purchase should be confidential. We ship in a plain postal package with no reference to our name or the products you buy on the outside of the package.
If you have any questions or would like to place an order, call 1300 4 CONDOMS (1300 4 266 366), use the contact us box or click the "Buy Now" or "Add to Cart" button.