Posted by Lexi Abner on Dec 31, 2020
Police in the Vietnamese province Binh Duong confiscated 345,000 recycled condoms which were being boiled, dried and resold as new, state media reported.
State-owned Vietnam Television (VTV) broadcast footage showing dozens of large bags containing the used condoms covering the floor of a warehouse.
Disorganised Condom Crimes
While they didn't count every used condom due to practical and hygiene reasons, police did weigh the bags in at 360 kilograms which would be the equivalent of 345,000 condoms, according to VTV.
The warehouse owner stated that they had received a "monthly input of used condoms from an unknown person."
A female worker detained during the bust explained to police the process used to "recycle" the used prophylactics. First they were boiled in water, then dried out and reformed on a wooden phallus before finally being repackaged for resale.
According to VTV the number of recycled condoms that have already been sold is unknown.
How To Recycle Condoms
The detained woman said she had been paid US$0.17 per kilogram of condoms she produced.
Dangerous stupidity, ingenious entrepreneurship, a step towards a greener planet? We'll let you decide. But before you rush out and open your own condom recycling enterprise—and in case you were wondering: you shouldn't wash or reuse condoms.
Condoms are single-use products and are called this for a reason. They shouldn't be reused or washed, ever.
Recycling Condoms - It happens: CDC
Recycling condoms is not unheard of. Back in 2018 the CDC had to issue a tweet warning against reusing and washing condoms. "We say it because people do it: Don't wash or reuse #condoms! Use a fresh one for each #sex act.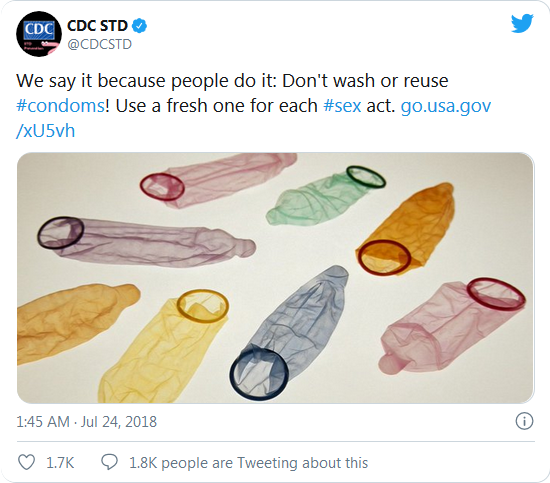 Humorous replies were predictable:
"Hold on babe, let me just grab one off the clothes line..."
"Well, what the hell am I supposed to with all these condoms in the dishwasher now?"
Used correctly, good quality condoms like Glyde Health prevent pregnancy and reduce the risk of sexually transmitted diseases (STDs), but since oil-based soaps degrade latex, washing or reusing condoms reduces their reliability and effectiveness.
So remember, while your socks can be washed, dried, and worn again and still fulfil their purpose, condoms — which have a more important purpose — can't. No, sorry never!
Get Your New Condoms Right Here at CondomSales
Rest assured, you won't find recycled condoms at CondomSales. As much as we care about the planet, we draw the line at recycling prophylactics. You'll only find the best quality condoms at the best price.