Posted by Lexi Abner on Jun 29, 2021
They say it takes all sorts (to make a world). Sex is no exception.
Kazakh Bodybuilder In Threesome With 2 Sex Dolls Wants To Introduce Male Doll Into Relationship
Just when the glorious nation of Kazakhstan is finally getting over Borat jokes, along comes Kazakh bodybuilder Yuri Tolochko. Yuri became in internet sensation after he married a sex doll named Margo in 2020. Not one to jump into things, he enjoyed a steady relationship with Margo for eight months before he popped the question. Sadly, the fairy tale romance wasn't to last for the couple, who divorced after Yuri cheated on Margo while she was out for repairs.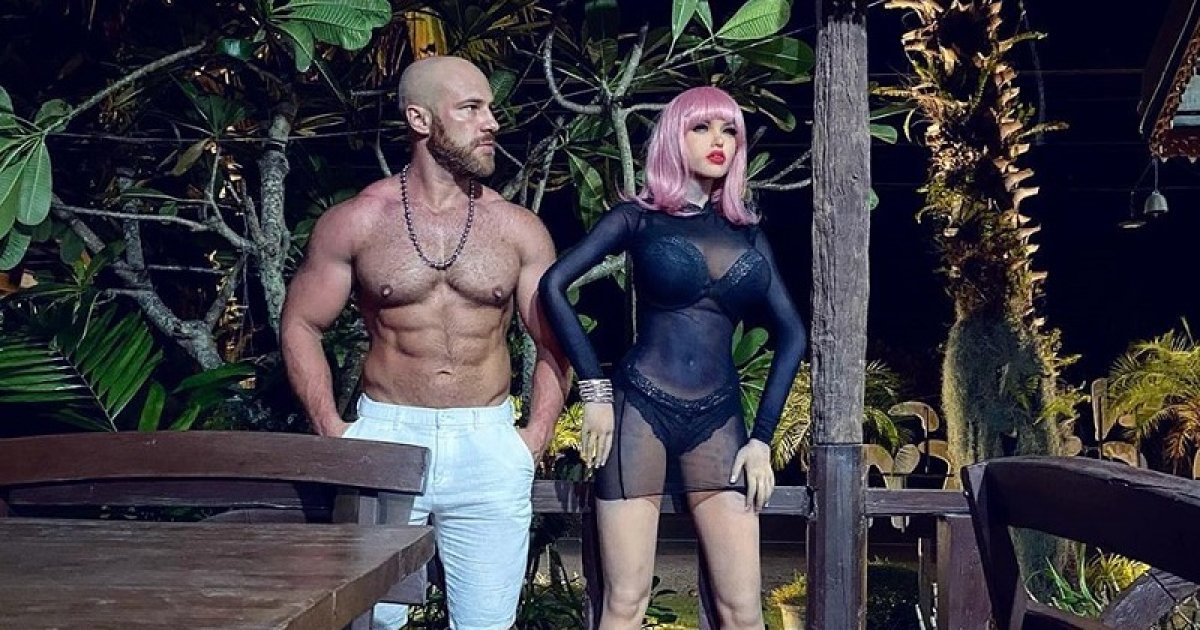 Such Is Sex Life During Lock-down
The bodybuilder admitted to "cheating" on Margo with a strange silver object. Soon after, the couple divorced. Yuri was distraught, but had to move on and took two new sex dolls, Lola and Luna, as his wives. "I'm not ready to talk about the reasons for the divorce yet," he said sadly.
Yuri described his new wife Lola: "She has not yet decided on her sexual and gender identity (she is in search)."
Yuri later confirmed that he was in a threesome after introducing another doll named Luna into the relationship. When his fans commented that Luna looked a little on the young side, he replied that she was of legal sex doll 'age'.
The Throuple Becomes A Fourple.
Identifying as pansexual, Yuri claims he can fall in love with "a character, an image, a soul, just a person". His next course of action seems natural: to introduce a male doll into their relationship.
"I want to have a male doll in the future and I want to do a wedding of a male doll and Luna and at the same time I want to do the ceremony of life and freedom with me. It's similar to wedding, but not wedding," the bodybuilder said on FUBAR Radio.
"I'm not going to stop, I want to get a harem," the bodybuilder added in an online post.
We just hope they're using condoms, dental dams and plenty of personal lubricant.
Czech Woman Stops Robbery by Performing Oral Sex
January 2021. A 36-year-old Czech woman was at a petrol station in Bratislava, Slovakia, buying cigarettes when an armed robbery occurred.
She prevented the gunman from escaping in a novel way—subduing him by performing oral sex until the police arrived.
The robber raised a gun at the station clerk and punched him in the face before stealing money from the cash register.
Believing her to be an employee, the gunman grabbed the Czech woman, dragged her to the back office and demanded that she open the safe for him.
"He said he would kill me. He wanted money. He repeated it several times," the Czech woman told Slovak news site Topky.sk.
Playing To Her Strengths
"At that moment, I couldn't think of anything other than taking off my jacket, sweater and showing him my strengths," said the woman.
She describes the suspect as being "easily seduced". That's right, instead of taking the money and running, the gunman quickly undressed and demanded oral sex. "So I satisfied him," she said. "I knew that the pump staff would definitely deal with this situation and call the police."
The Czech woman's talents, worked. When police arrived 30 minutes later they found the two half-naked on the ground. She immediately said: "Take him, I can't do it anymore."
"They immediately pacified him," she reported.
The suspect was a 24-year-old Serbian said to be under the influence of drugs or alcohol.
Another Injustice is…
The real crime perhaps is that the Czech woman could simply walk away without being commended and receive a medal for de-escalating the situation and stopping the robber.
In the words of Fleetwood Mac: Hero(ine)s are hard to find.
Get Your Condoms at CondomSales
All your sexual needs are easier to find. You can discover a wide selection of condoms, lubricants and oral dental dams on our site and have them discreetly delivered to your door.