Posted by Kenny Condom on Apr 22, 2018
Who the hell is Stormy Daniels, and why should you care?


Stormy Daniels is the woman at the centre of an alleged affair with Donald Trump (the apparent cover-up of which by Trump lawyer Michael Cohen seems more bungled by the day). Note to self: don't hire this guy to set up next money-laundering operation.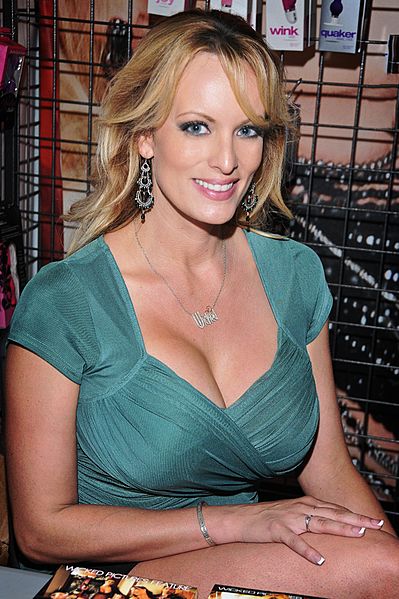 The facts:
Stormy was born Stephanie Clifford and raised in Louisiana.

She started stripping as a teenager at a club in Baton Rouge and soon diversified into porn.

While Hollywood remains a bastion of male power and influence, the adult film industry's top director in 2018 is female, yes, Stormy Daniels. She won Best Picture and Best Director at the XBIZ Awards, as well as Best Drama at the AVN Awards, for her three-hour Western epic, Wanted, which she not only directed and starred in—she also wrote.

But this isn't quite enough. "Why do I have to be the best female director? Why can't I just be one of the best directors?" In her own words: "What does my vagina have to do with directing?"

Searches for the name Stormy Daniels have gone crazy since she made headlines for an alleged affair with the U.S. president according to data compiled and analysed by Pornhub . com.

"I have two choices," Stormy Daniels told Rolling Stone. "Sit at home and feel sorry for myself, or make lemonade out of lemons."


Stormy has also been subject to a heinous level of abuse, fake outrage and disrespect by users online. Incredulously she takes it all in her stride, actually replying to Twitter abusers with a sense of humour, irony and intellect, swatting them away like villains in a super heroine movie.



SNIKT!


BIFF!

BAM!

POW!



BAMF!

BWAH HA HA HA!

Which shows up a few points. One, that the internet really brings out lows in the way humans feel they can talk to each other. How many of these (likely) normal people would talk to fellow members of society in this way to their face?

Two, that as Stormy eloquently points out, the desire to be fake outraged, has tragically replaced our sense of humour.

Finally, that in the ongoing saga between the President and the porn star, one is a dumb fake-blond, and the other is Stormy Daniels.
Buy Condoms Online Right Here at Condomsales.

While pornstars and Presidents may or may not always use condoms you definitely shouldand we have the best range of condoms in Australia. Purchasing online means you can read up on product descriptions, check out specs, and basically find all the info you want to know. If you see anything you like, click the buy now button. Your condoms will be delivered quickly and discreetly.

For wholesale enquiries please phone us directly on 1300 4 CONDOMS (1300 4 266 366) or email us.

Good luck with finding the best condom for you!