Posted by Kenny Condom on Nov 26, 2015
One of our favourite product lines is GLYDE Condoms. While you don't have to be a vegan to enjoy GLYDE Condoms, they are vegan-friendly. A lot of people wouldn't think about condoms not being friendly to vegans, but most condoms contain some products of animal origin.

In particular, the GLYDE Ultra Condom product line is manufactured to stringent standards with the highest quality latex. The GLYDE Condom line doesn't use a casein binding agent like most condoms, but uses a vegetable protein. In addition, no animals are used for testing GLYDE Condoms.
Quality of GLYDE Condoms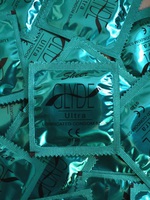 While GLYDE Condoms don't have the standard binding agents, they are still of the highest quality and durability. When GLYDE Condoms are tested at the manufacturing facility, they are tested for length, width and tensile properties. Tensile properties are an important test because they measure the amount of force at which the condoms may break.

They also measure the maximum length to which GLYDE Condoms can be elongated before breaking. Tests are performed before and after the condoms are aged. Air testing is also used to make sure that there are no holes in any GLYDE Condoms. They are also checked for any defects that may occur in packaging, flavours and colours.

GLYDE Condoms are burst tested twice: once with air and once with fluids. All of the tests are performed by precisely calibrated machines in state of the art laboratories.

SHEER Dams and GLYDE Premier Lubricant are also manufactured using no animal testing or by-products.
Check out Our Selection of GLYDE Condoms
Visit our GLYDE Condoms page which has four different styles: Glyde Ultra, Glyde Maxi, Glyde Slim Fit and Glyde SuperMax.

Feel free to browse around and see what you can find. If you have any questions, you can use the "contact us" box or call us today: 1300 4 CONDOMS.