Posted by Kenny Condom on Aug 29, 2016
If you are in Australia and looking online to buy lubricants, you are in the right place. We carry one of the best brands in Australia: Pjur. We offer a wide range of Pjur lubricants here on our website. Pjur makes standard personal lubricants for men and women, anal lubricants, performance spray for men and stimulation spray for women.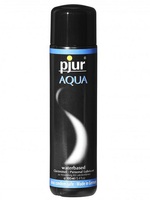 Pjur is located in the US, Australia, Germany and Luxembourg. Their lubricants are made in Germany and shipped to Australia. While one may not think lubricants can benefit from legendary German engineering, they have a great reputation for making the best lubricants in the world.
Recently, Pjur won two awards at AdultEx. The first award they received was "Best Lubrication/Lotion Product Range. As we described above, they make a wide range of great products. The second award went to Alexander Giebel, founder and CEO of Pjur Group. His award was for "Services to the Industry."
During the Expo, Pjur launched three more products which will eventually be available in Australia. We will provide more info when the products are available. But we still havea full complement of Pjur products. We would like to tell you about a few of them.
Pjur Superhero Performance Spray
This helps men last longer. It not only prolongs sex, but enhances pleasure. It is safe for use with a condom.
Pjur My Spray Stimulation Spray for Women
This increases circulation, blood flow and sensation on intimate female body parts. Just a small dab provides tingling and stimulation within 60 seconds.
Pjur Original Bodyglide Lubricant
This is a silicone-based personal lubricant. It was the first silicone personal lubricant and is still the best. Safe for latex condoms.
Pjur Woman Aqua Lubricant
This is the state of the art water-based lubricant for women. It is safe for use with toys and is fully compatible with mucous membranes and skin. When not being used as a lubricant, it can be used as a moisturiser.
To learn more, click "Contact Us" on the blue navigation bar at the top of the page.