Posted by Kenny Condom on Apr 28, 2017
While unprotected oral sex won't cause pregnancy, it can still spread many STI's. One of the ways to protect yourself during oral sex, on the "front door" or the "back door," is by using oral dental dams, also called "Sheer Dams."
So, what is an oral dental dam? It is a sheet of latex that is placed over the vagina or anus during oral sex. It has to be held in place, but it allows you to use your mouth to stimulate any area on the body without the risk of STI's. It can also help you avoid the taste.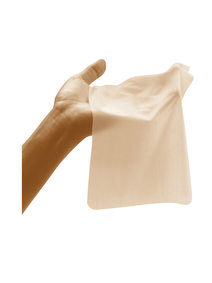 Our oral dental dams are made by GLYDE and are available in a variety of flavours: wildberry, strawberry, vanilla and cola. They can make oral sex a bit more fun for the giver while still providing a great experience for the receiver.
There are some caveats. You do need a new dental dam every time you have sex: they aren't reusable. Make sure not to stretch the dam, as this can make it tear. If you use a lubricant, make sure it is water-based. Make sure not to use lubricants such as baby oil, petroleum jelly or lotions because they can cause it to break.
However, it is easy to use. It is one flat piece of latex. All you have to do is lay it flat over the vagina or anus and have at it.
Buy Oral Dental Dams and Condoms Online Here
At CondomSales.com.au, we offer a wide variety of condoms, dental dams, lubricants and other sexual health materials. We offer condoms wholesale and retail, depending upon your needs. We currently offer GLYDE, Ansell, Four Seasons and Durex condoms wholesale and retail.
We offer a great combination of convenience and price, allowing you to find a great bargain without leaving your home. You can order in the privacy of your home and receive your condoms or dental dams in unmarked, discreet packages.
Feel free to browse. If you want to buy condoms or dental dams, just add them to your cart and check out.