Posted by Lexi Abner on Apr 05, 2022
Adult entertainers are among many Russians who may have second thoughts over allowing a politician near-unlimited power as economic sanctions hit the country.
From Russia Without Love
Take Russian porn creators on OnlyFans, the subscription site, famous for its adult content, who found themselves unable to share new videos or get cash out following the invasion of Ukraine.
Creators from Russia and Belarus have logged into accounts to see: "Please be informed that your country is not supported for payouts, therefore we are unable to assist you regarding that matter at this time."
"In [the] short term, I don't have money to live … Many models [are] faced with this, nobody thought it could happen," OnlyFans creator Bunnie Mommy told Rolling Stone, also complaining it was unfair to penalise everyday Russian people over a war they did not support.
"Blocking bank accounts of peaceful Russian people, blocking working pages and freezing income won't help Ukraine," she declared. "[We] are humans, who really wish peaceful sky under Ukraine and want to help as much as we can."
She said she has lost over US$8000 so far.
Putin's War, Not Russia
Another OnlyFans star, @kitty said: "Right now I don't have any funds to buy food or pay my rent." She also pointed out that the Russian people do not equal the government. "I have taken part in several protests since I moved to Moscow when I was 18. We are not Putin! All my prayers for peace and the Ukraine people."
In a statement OnlyFans said Russian content creators would regain access to their accounts, but financial restrictions will continue as long as western sanctions are in place.
"We are disheartened by the recent tragic events in Ukraine," a statement from the company read. "As a global business, OnlyFans stands by our creators and understand that they are not responsible for these heinous acts. While creators are not responsible for the recent attacks on Ukraine, due to worldwide financial restrictions we have very limited methods to pay Creator accounts linked to Russia and Belarus. As a result payments have been limited."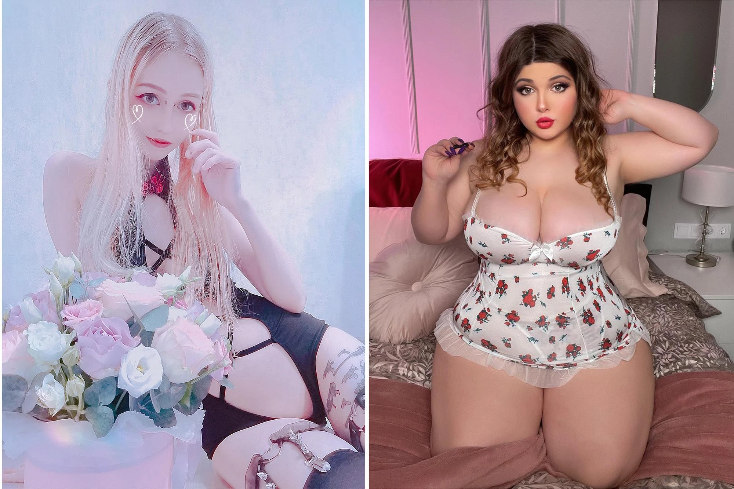 Above: Russian OnlyFans users SixSexPlanes (left) and Bunnie Mommy (right)
Make Love Not War
Another Russian model who goes by the name @SixSexPlanes agreed. "It's important to say, we all don't support our government. We're suffering about it all time and now we're all just shocked," she stated.
Smoke rises over Ukraine, countless lives continue to be lost and a huge humanitarian crisis grows each day—for a war that the world, including most Russians, do not want.
"Let's at least not become a nation of frightened silent people. Of cowards who pretend not to notice the aggressive war against Ukraine unleashed by our obviously insane tsar." —Jailed Kremlin critic Alexei Navalny
Meanwhile in Australia two liquor chains, Dan Murphy's and BWS, have joined a growing world boycott and pulled Russian vodka off the shelves.
Buy condoms at CondomSales
No porn and no vodka, but you can still find the best range of condoms and lubricants from CondomsSales. Have a browse. Shop in complete confidence knowing that you order will be sent off quickly in the plainest of packaging, right to your door. Guaranteed embargo free!