Posted by Kenny Condom on Mar 19, 2018
My dog ate the condom! My grandma saw me buying condoms. We probably all have a funny, strange or mortifying condom story (or two). There may well be a million crazy but true condoms stories in the world... here are just a few.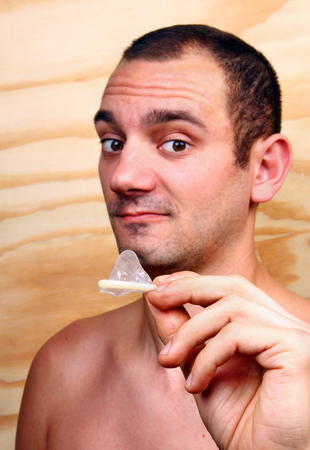 Just Vegetating

So there was this girl I was seeing off-and-on (and at the moment it was off).

I got a call from her one Sunday and she sounded in rather a panic.

"I need you to come over right now to help me," she said. "I can't explain on the phone."

I went over to her place and she rather sheepishly invited me in.

"I need you to look in my vagina," she said.

"What am I looking for?" I asked.

"A condom," she replied. "It's stuck in me."

"But you have hands—and fingers!"

"I can't find it."

I poked around a little and couldn't find anything, but she insisted. "You need something!"

I went to the kitchen and found a plastic spoon. After a little more rummaging, sure enough I dragged out a condom.

"Why didn't you ask the guy you were with to get it?" I asked.

"Well… because there wasn't one." She pointed to her dresser where there was a large, stiff zucchini.

It was good to see she was practicing safe sex, even with vegetables.

German man dies after detonating condom machine
In a not so festive story, a German man died on Christmas Day 2015 after blowing up a street condom dispenser in a botched robbery attempt.

The man, 29 and two accomplices built a home-made bomb and attached it to the vending machine before rushing for cover in their vehicle.

But the problem with fuses is they can be a bit short and the victim didn't quite close his door in time.

A steel shard from the explosion hit him in the head.

Rushed to the hospital he died soon after from his wounds.

Quite whether the pocket change from a condom vending machine would have been worth it even if the plan had succeeded is debatable, but this story sure proves crime doesn't pay.



The Bestest Water Balloons Ever!

As every parent knows nothing in your house is safe from small, prying hands.

Amanda had attended a bachelorette party and one of the giveaways of the night was a bag of fun colored condoms. You know the kind.

When she got home she tucked them away safely in a drawer and forgot about them.

A few weeks later Amanda was cooking dinner while her daughters played outside in the yard in the fading summer light.

After a while and one came in and asked: "Can we play with water balloons, Mum?"

Sure, Amanda said.

The girls continued their play amid sounds of water, splashing and laughter.

Suddenly it occurred to Amanda that they didn't have any water balloons.

She rushed outside to see her 6-year-old daughter was standing at the tap filling up a bright pink condom with water.

"These are the biggest water balloons you have ever bought! Thanks Mom!"



Buy Condoms Online Right Here at Condomsales.com.au


No matter what you use condoms for, we have the best range of condoms in Australia. Purchasing online makes the whole process simple, you can search for just the right water balloons, ah we mean condoms and have them delivered quickly and discreetly.

For wholesale enquiries please phone us directly on 1300 4 CONDOMS (1300 4 266 366) or email us.

No matter if your partner is human or vegetable, we have the best condoms for you!