Posted by Kenny Condom on Nov 09, 2015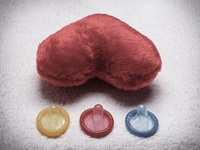 If you asked any condom supplier in Australia who was going to revolutionise the condom industry, they would probably say Ansell Condoms or one of the other companies. They would be wrong. So, who is about to revolutionise the condom industry? A researcher and his team at the University of Wollongong.

Condoms of the Future
The researcher's name is Dr Robert Gorkin. He is a biomedical engineer. He is working on a condom that offers more protection than a latex condom and feels more lifelike. The materials he is using are called "hydrogels." As you may guess from the prefix, these materials are water-based. They are soft, squishy and have mechanical properties similar to those of rubber.

According to Dr Gorkin, "Latex feels like a rubber glove, but this doesn't." Dr Gorkin hopes that by using a more lifelike material, he can make sex better for those who use condoms. He feels strongly that improving the quality of condoms will result in more people using them.

Dr Gorkin's condom is being called a "next generation condom" and was awarded a grant by the Bill and Melinda Gates Foundation. They also received a grant from Thinkable.

Why it's Better than Standard Condoms
The material is much like that in a contact lens, but a lot thinner. It is clear and soft, but exceeds standards on tests for both permeability and strength. Dr Gorkin says he has received positive feedback from both "people in the street" and condom companies. Dr Gorkin believes the costs will eventually be close to those of latex condoms.

If You Want a Great Experience Without Waiting…
We sell standard condoms, but if you want a condom that is the most lifelike on the market, check out SKYN by Ansell. Their motto is "The closest thing to wearing nothing" and Ansell takes the motto seriously.

To learn more or to order condoms online, call 1300 4 CONDOMS or browse around our site as long as you like.