Posted by Danny Achurch on Jun 14, 2020
What Is The Average Penis Size?
Don't worry. It's a common question.
In fact, it's one of the most common questions men ask Google. (Along with: what is Jennifer Lawrence's phone number).
A new study has attempted to answer this question by carrying out a rigorous review of past clinical studies gauging penis size and produced a nifty chart to work out where your penis size sits in relation to the rest of the male population.
"We believe these graphs will help doctors reassure the large majority of men that the size of their penis is in the normal range," says lead author David Veale of the Institute of Psychiatry, Psychology and Neuroscience in the UK.
"We will also use the graphs to examine the discrepancy between what a man believes to be their position on the graph and their actual position, or what they think they should be."
Many other studies allowed self-reporting, which doesn't always give accurate results. "People overestimate themselves," says Veale. So the new study brings together data from seventeen previous academic papers, measuring 15,521 men from around the world.
How Do You Stack Up in Penis Size?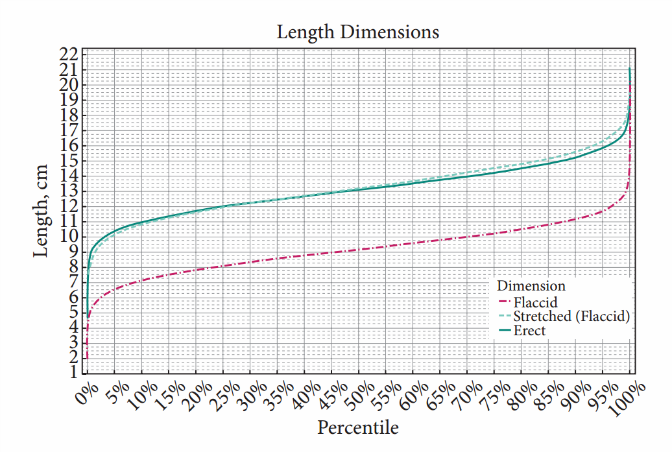 Well, according to the study, the average flaccid penis is 9.16 cm (3.61 inches) in length; the average erect penis is 13.12 cm (5.16 inches) long. The matching girth measurements are 9.31 cm (3.66 inches) for a flaccid penis and 11.66 cm (4.59 inches) for an erect one.
How To Measure Your Penis?
Guys, if you're into checking how you measure up follow the same measurement technique used in the study. First, you'll need a ruler and/or a tape measure.
Take your length measurement from the pubic bone to the tip of the penis. Flatten any fat covering the pubic bone before measuring. Additional length added by foreskin should not be counted.
Measure your circumference around the middle of the shaft.
The study found no strong evidence to link penis size to physical attributes such as height, BMI, or even hand size (sorry Donald J. Trump).
No Magical Way To Increase Penis Size
Some reports suggest that only around 55% of men are satisfied with their penis size. This leads to some seeking possibly dangerous surgical procedures to a problem that, according to Veale, is psychological. Males "Seem to have a very distorted picture of what [size] other men are, and what they believe they should be," he says.
Veale also points out that "There are no effective lotions or potions or pills." So you can also ignore all those spam ads on Pornhub.
Remember, whatever your size, it is important to buy the correct condoms by size. Luckily we stock all condom sizes here.
You can read the paper in the journal BJUI International here.
Condoms at CondomSales
Find Australia's best selection of condoms right here. We've also got the best personal lubricants.
Buying direct from us means you get the highest quality products in Australia. Buying bulk condoms mean better value for money, and you'll have them mailed in secure, discrete packaging straight to your door.