Posted by Lexi Abner on Jan 02, 2020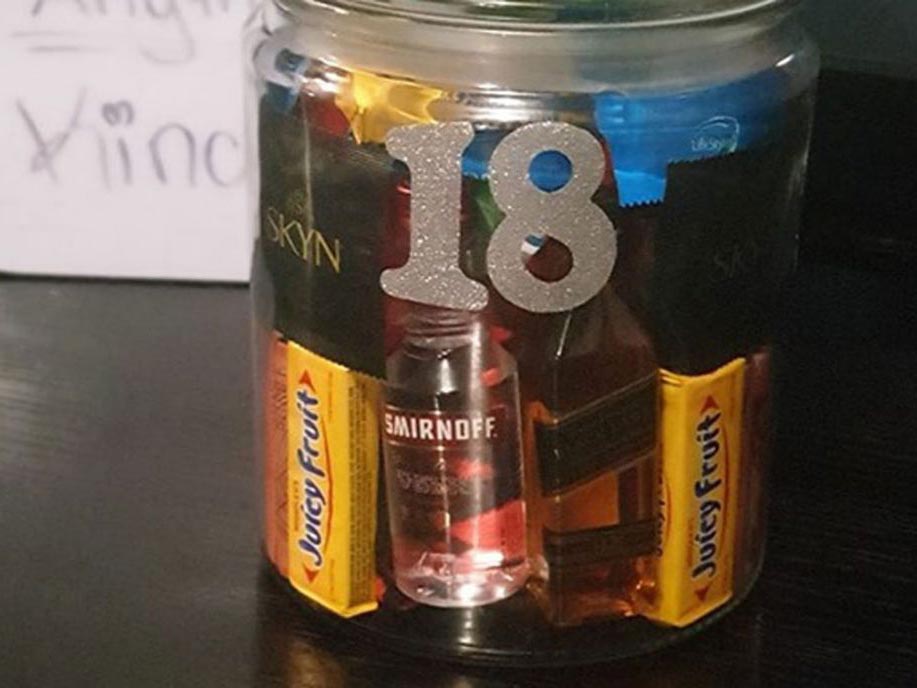 Your son has just turned 18. A man at last!
A range of gift ideas might float through your mind.
New watch.
Some cologne.
A car even.
But one Aussie mum went her own way on gift selection and, surprise, surprise, a bunch of people online think it's a little weird giving their children best selling condoms like Glyde Ultra 100 Bulk Condoms.
Is giving your son a jar of condoms, booze and chewing gum strange?
She put some thought into it, creating a bespoke jar for her boy containing johnnies, booze and chewing gum. Big on everyone knowing about her unusual gift, she made the choice to share a prezzie pic on a Kmart Facebook group.
And attention she sure got.
Not rapturous
"You bought your son a variety of condoms for his birthday? Is it just me or is that weird?" said one.
"I'm all for teaching your kids safe sex but this seems to go too far. Imagine him opening this gift in front of all his friends," another added.
A third said: "Who wants condoms from their mum and who wants them as a present? Happy birthday son, now go have a sh*g."
Hello Haters of Sexual Health Awareness
The Australian mum was pretty shocked that everyone didn't appreciate the present, describing the 'it's weird to gift your child condoms brigade' as 'prudes'.
"I didn't think I would get this much hate from so many prudes. Sorry to those that aren't able to have an open relationship with their teenagers," she commented.
"I was a teen mum and I want to make sure all my kids are protected and know where to go if they have any questions.
"With so many unwanted pregnancies especially in young teens it's not just the girls' problem, it's also the boys.
"We all have sex get over it. Stop making it such a taboo subject."
But not everyone was so judgemental.
Some Parents Got it
A "awesome yet simple" gift idea was how one dad described it. "I'm definitely using this one," he wrote.
"I too have an open relationship with my four boys and the condoms are a good idea. We have to teach them it's our duty as parents."
Another woman said the gift showed the mum had a "wonderful" relationship with her child.
"Praise be to those parents who promote safe sex to their kids instead of making sex a taboo subject," said yet another woman.
"So important that young men learn that contraception is their responsibility and their right too."
Those praising the mum for raising sexual health with her son, have some statistics to back up their argument.
According to Australia's Institute of Health and Welfare, sexually transmitted diseases such as gonorrhoea and chlamydia have been rising the past 20 years.
From 2008 to 2017, reports of gonorrhoea tripled to 118 per 100,000 people.
Condoms Here At CondomSales
Maybe you're thinking of a condom jar gift yourself? Just need a few condoms to fill it. Well, start right here.
Purchasing direct from us means you get the highest quality condoms in Australia. Buying bulk mean better value for money, and you'll have them mailed in secure, discrete packaging straight to your door.
For wholesale enquiries please contact us here.