Posted by Kenny Condom on May 31, 2016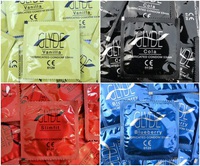 We are proud to carry a wide assortment of Glyde condoms and other Glyde products online. Their condoms and lubricants are not only among the highest quality in the industry, they are made by an Australian owned company that cares about making the world a better place.
Glyde condoms are manufactured by Glyde Health Pty Ltd. Their head office is in Sydney. Not only does Glyde Health provide condoms and lubricants for retail sale to consumers, they also supply sexual health products in bulk to AIDS councils, hospitals, Government clinics and other NGO's across Australia.
Glyde Health has become so successful that their products are now available in New Zealand, China, Japan, the Middle East, Europe, South America, Canada and the US.
Vegan Condoms?
All Glyde products are vegan. The condoms are made of latex and are bound with a vegetable protein. Every part of the process and every component of each condom is free of animal products and contact with animals. Glyde condoms aren't even tested on animals.
High Quality
Glyde condoms are subject to rigorous testing standards. They are tested for width, length and tensile strength. Condoms are tested before and after they are aged. They are also tested to ensure that there are no holes and they are checked for defects in other areas, such as flavours, colours and packaging.
Glyde Premier Lubricant is also free of animal by-products, as are Glyde Sheer Dams.
Buy Glyde Condoms Online
At CondomSales.com.au, we carry a full line of Glyde Condoms, lubricants, sheer dams and female condoms. For those who haven't tried sheer dams, they are used when performing oral sex on women.
Please feel free to check out all of our sexual health products from Glyde and other manufacturers. We ship discreetly and quickly. You can order all of your sexual health products such as Glyde Condoms from us online in the privacy of your own home. It doesn't get any better than that.