Posted by Kenny Condom on Jun 29, 2016
According to their satisfied customers, GLYDE not only makes the best condoms, but the best lubricant, too. It is the GLYDE 100 ml Lubricant, also known as GLYDE Premier Lubricant. We know the "best" of anything is subjective but the feedback we have gotten indicates this might be the best personal lubricant on the market, especially for the price.
Vegan Friendly and Sustainable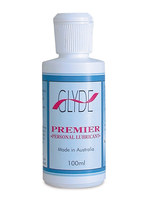 GLYDE Premier Lubricant is vegan friendly product and it is made with all sustainable ingredients. GLYDE HEALTH is based out of Sydney and are 100% Australian owned and operated. They are committed to providing the best in sexual health products but they are also committed to being ecologically friendly and vegan friendly.
GLYDE HEALTH is the one company that vegans can depend on to not use animal products in their condoms or lubricants. One of the underrated benefits of doing business with a company like GLYDE HEALTH: their ethics and their attention to detail start at the top and go all the way down to every person and every process in their operation. You can always trust that any of their sexual health products is high quality and reliable.
Why So Many People Love GLYDE Premier Lubricant
GLYDE Premier Lubricant is paraben-free and water-based. It is clear, non-staining and long-lasting. Because it is water-based, you can use it on latex condoms and it won't break them down. Because GLYDE Premier Lubricant doesn't have as many "fillers" as other popular lubricants, it never gets sticky and makes sex feel even better.
Order GLYDE Lubricants and Condoms Online
You can order your GLYDE lubricants and condoms online in the comfort of your own home. All orders are fulfilled ASAP and arrive in plain packaging for the utmost in discretion. To buy condoms or lubricants, go the the product page and click "buy now" or "add to cart." Then, just follow instructions and your tickets to sexual freedom will arrive at your door shortly.