Posted by Kenny Condom on Dec 28, 2016
At CondomSales.com.au, we sell Ansell Condoms wholesale right across Australia. We provide Ansell Condoms wholesale to a wide variety of individuals, organisations and businesses. Whether you are a community service organisation, a sexual health clinic or a busy individual, it makes a lot of sense to buy your condoms in bulk.
At CondomSales.com.au, we are one of the foremost distributors of condoms online in Australia. We only carry condoms of the highest quality and we go out of our way to provide the lowest prices possible. The two best ways we can do this for you are our bulk packages and our volume discounts.
Ansell Condoms Wholesale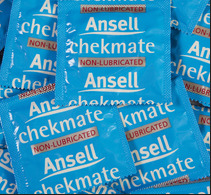 Our bulk packages for Ansell Condoms are in quantities of 144. 144 Ansell Checkmate Condoms cost $39.91 as of this writing, which is a reduced price. Meanwhile, a package of 24 currently costs $11.09, which is also a reduced price. If you were to buy 144 Ansell Checkmate Condoms in packages of 24, they would cost you $66.54.
The bulk price gives you 40% off, but that isn't the best of it. If you buy three packages of 144, you get another 15% off. If you buy four packages, you get 20% off. If you buy 12 packages, you get 25% off.
This leaves you with a lot of options. Sex workers or busy individuals can do well by buying at least two packages, while larger operations can maximise their discount by purchasing ten or more packages.
Ansell Condoms are available in bulk in lubricated, non-lubricated, closer fit, regular fit, large, antiviral and Nuda varieties. They can also be bought in assorted quantities of 144.
Why CondomSales.com.au?
When you buy from us, you know you are getting high quality condoms. You also know you are getting the best in customer service. Most of all, they are delivered to you discreetly without the hassle of going out to buy them.
To buy, click the buy now or add to cart button. If you have more questions or are a larger organisation looking for the absolute best pricing, phone us today on 1300 4 CONDOMS.