Posted by Lexi Abner on Jun 05, 2019
Two to Tango
A limited edition pack of condoms - which can only be opened by four hands has been launched in Argentina to promote the issue of consent in relationships. The package must be pressed simultaneously on all four sides—essentially requiring four hands to access.
Ad agency giant BBDO Argentina created the unique product for Tulipán, a local sex toy retailer.
"If it's not a yes, it's a no," says the tagline.
"Tulipán has always spoken of safe pleasure, but for this campaign we understood that we had to talk about the most important thing in every sexual relationship—pleasure is possible only if you both give consent," Joaquin Campins of BBDO said in a statement.
Response to Shocking Stat

The concept came about as a response to a survey that revealed only 14.5% of Argentine men regularly use condoms.
The hashtag, #PlacerConsentido, or translation: "permitted pleasure," was used to promote the campaign. As most companies who attempt socially conscious campaigns Tulipan perhaps expected to be applauded for the positive message, but think again.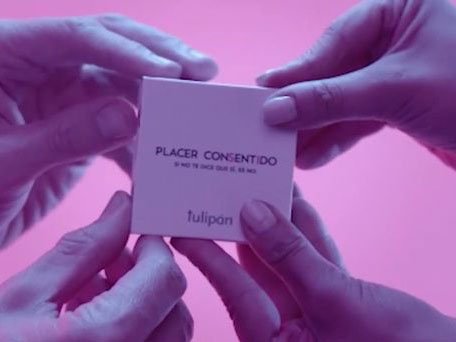 Swift Online Outrage

Holly Baxter, an editor at the Independent, quickly wrote on Twitter: "We see this a lot when we talk about consent — products and strategies devised (usually by men) which address the problem of 'women saying they get raped' rather than 'women experiencing sexual assault."
Guardian US columnist Moira Donegan also pointed out that a person intent upon committing sexual assault, "doesn't care about consent", and will likely not care about condoms either.
Still others argued that it discriminated against amputees who would be not be able to open the condom; and what about the polyamorous? Isn't it an assumption for the company to expect sex was just for two? Looking into the future, there was also concern that these condoms could be used as "evidence," in sexual assault cases, as a way to demonstrate that consent had been given-and hence protect those charged with sexual assault rather than the accuser.
Hang on a Minute!
BBDO's Campinas quickly had to point out these arguments were moot and missing the point: "It was never intended for sale. It is a limited edition designed only to raise awareness about… consent and for that reason it can't have commercial purposes," he said.
So don't expect to buy 'Consent Condoms' anytime soon. Never meant for general retail, the limited-edition contraceptives are however available at bars and events in Buenos Aires.
Condoms Online Right Here at CondomSales
So, no, we don't sell 'Consent Condoms' but we do have practically everything else. Purchasing direct from us means you get the best range of condoms in Australia, better value for money, and you'll have them mailed in secure, discrete packaging straight to your door. Find the right condom for you and click the buy now button.

For wholesale enquiries please contact us.