Posted by Kenny Condom on Nov 16, 2015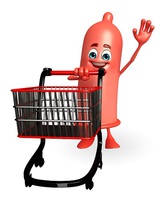 So, do you think it's expensive to buy condoms in Australia? How about spending $1047 for a 36-pack in Venezuela? That's right: $1047 in Australian Dollars for 36 condoms. That's $29.08 per condom. Assuming that you would use two on any given night, that's $58.16 added to the cost of a date that goes the way you want it to.

Doesn't that make you glad to live in Australia? On our website, you can buy 24 Glyde Maxi 56mm Condoms for $13.95, 24 Glyde Super Max 60mm Condoms or 24 Glyde Ultra 53mm Condoms for the same price.

The Great Condom Crisis?

It's extremely difficult to even find condoms in Venezuela right now, as many stores have empty shelves due to an economic crisis. Worse yet, people are still having sex, but are less likely to use protection, causing a spike in STI's and unwanted pregnancies.

In Venezuela, you aren't going to buy condoms online. You are going to have to go to a number of stores until you find one that has condoms on their shelves. Meanwhile, at CondomSales.com.au, you can buy condoms online from anywhere in Australia. They will be delivered to your door in discreet packaging. All you have to do is browse around the site, decide what you want, add it to your cart and check out.

Please Feel Free to Browse Our Site

We carry a very nice selection of high quality condoms. Even our least expensive, standard condoms are of the highest quality. We have done a lot of research on condoms to make sure that you can order the condoms that give you the best experience and provide the most safety, again and again, time after time.

If you would like to buy some condoms, we suggest you start with Glyde Ultra. You are welcome to browse or buy. If you need some more info, feel free to call us on 1300 4 CONDOMS or use our contact page.