Posted by Lexi Abner on Apr 16, 2019
It's either a brilliant marketing ploy, or a good idea gone badly wrong.
Barber Jake Gamez, 23, who obviously has huge confidence in his haircutting skills, posted a picture of condoms attached to a business card on Twitter.
He said: 'Gotta include one of these with every card! You're going to need it after I cut your hair. Trust me.'
The implication being anyone who gets one of his haircuts will surely need condoms because well, it'll make you irresistible.
Holes In The Plan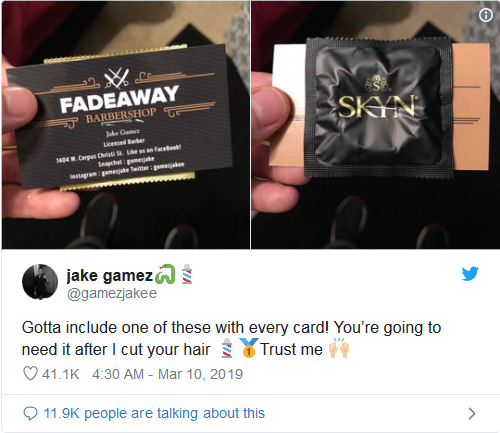 But we recommend it's best to avoid his offer. It has a number of holes. Right through the condoms in fact. Yes, take a good look at the pic. He didn't stable his business card to the corner of the condom, but in fact right through the middle, putting two nice holes directly through it.
Jake's heart may have been in the right place, but not his aim.

Maybe Jake was just too cool for school and skipped sexual education class? Or dozed off during the bit about safe sex? Y'know, the important stuff about your condom needing to be intact and not punctured by staple holes to fully function.

Holes, a teacher would have told Jake can let stuff get in, such as microorganisms which transmit sexual diseases, or alternatively let stuff out, for example your sperm.

Twitter Reacts

One Twitter user succinctly summed up the general feeling with: "i was about to say, DAMN, you did that. but then i saw the staple and i was like daaaamn… you reallyyyy did that."
Some saw the merit in his plan. One Twitter user commenting: "Wonderful… now you can bring your son to get a fade too!"
And some questioned if Jake was actually a smarter businessman than initially appeared and had taken the photo for precisely the kind of reaction all but guaranteed on Twitter: "the free publicity you have gotten from this… Congrats…collector items is what these are now"
Business Sense
Other businesses have also given away condoms with greater success. In the UK hair care brand Noughty worked with luxury vegan condom brand Hanx to raise sexual health awareness. It's a very good way for a brand to associate itself with a important cause and gain publicity.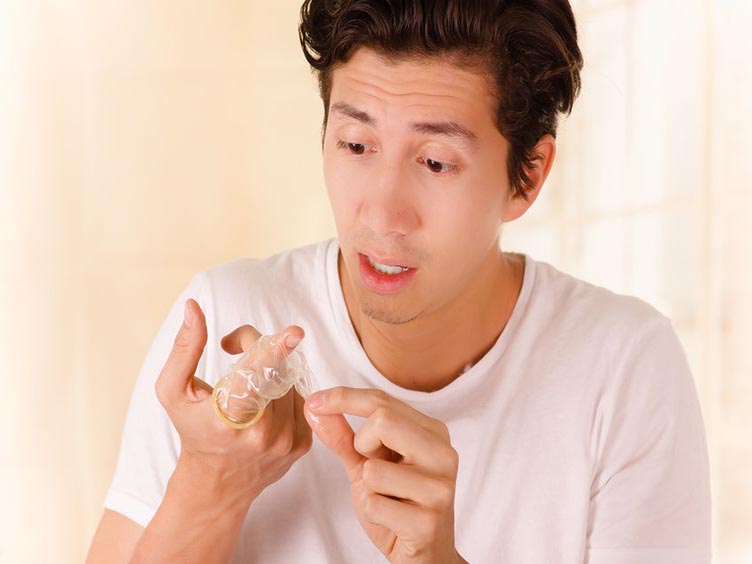 A reminder…
But it's a lesson for the consumer to be a bit careful about where you source your condoms. While you can't beat free, always be sure that nothing has been done to the condoms (such as putting staples through them). Condoms are not pencils. If one has a defect, you can't just throw it away and get another. A small defect can have long term negative consequences. So always check the packaging first to make sure your condom's intact.
It's always best to buy condoms from a specialist you can trust.

Buy Condoms Online Right Here at CondomSales
Purchasing direct from us means you get the best range of condoms in Australia, better value for money, and you'll have them mailed in secure, discrete packaging straight to your door. Find the right condom for you and click the buy now button.

For wholesale enquiries please phone us directly on 1300 4 CONDOMS (1300 4 266 366) or email us.

Guaranteed staple-free.