Posted by Kenny Condom on Jun 27, 2016
If you are allergic to latex, you can't use that as an excuse to not use a condom anymore and neither can your partner. GLYDE Unique Non-Latex Condoms are latex-free but are every bit as reliable as latex condoms. Those who have an intolerance to latex can now have the same sexual freedom that everyone else enjoys.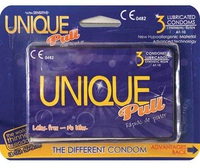 GLYDE Unique Non-Latex Condoms are hypoallergenic, odourless and colourless. They are pre-lubricated for those moments when it's happening right now. They are ultra-thin, which provides the utmost in sensitivity. In addition, like all GLYDE HEALTH products, they are vegan-friendly because they contain no animal products.
Who are GLYDE HEALTH?
GLYDE Condoms are manufactured by GLYDE HEALTH, Pty, located in Sydney. They are 100% Australian owned and operated. GLYDE HEALTH is the only public sector provider of sexual health products in Australia. They supply condoms in bulk to NGO's and State Government Health Departments. GLYDE condoms end up in hospitals, government clinics, community health organisations and prevention organisations.
What it Means to You
We could tell you a lot more about GLYDE HEALTH but it is sufficient to say that they are one of our favourite manufacturers. They manufacture great products, including a full line of latex condoms. They also have a popular lubricant called Premier that a lot of people think is the best lubricant on the market.
We like them because they are from Australia and because everyone is always satisfied with their sexual health products. You will love them because of the way they feel.
You Can Buy GLYDE Condoms Online
We carry a full line of GLYDE Condoms, including the Unique Non-Latex Condoms, right here on our website. Use our secure payment system and we will send them to you quickly and discreetly. To purchase condoms online, find what you want in the menu on the left. Then, click the buy button or the add to cart button and follow instructions. Feel free to browse our website and look at all of the great sexual health products we have.