Posted by Lexi Abner on Jun 20, 2018
You've found your dream girl/man and are in a happy, stable relationship. Even though it's been a while since you both got together, everything is as amazing as it was at the very beginning... or almost everything? If you feel your sex life needs spicing up, you can try some of these tips to bring more fire to your bedroom (or elsewhere):
For him:
1. Show her that you want her
Meeting up for a coffee after work? Don't be too shy to "accidentally on purpose" touch her ass as you greet and kiss. You'll leave her no doubts she's still driving you crazy and your #1 and only.

2. Cook dinner
Nothing is as hot as a man cooking her favourite meal - and doing the dishes afterwards. Light up some candles, serve the dinner with a glass of wine.Okay, don't fret about the dishes; there's a good chance dessert will be served in bed.
3. Sexy massage
It doesn't matter whether she's had a long, stressful day or not - a relaxing massage will show you care. Rose or lavender body oil will do magic, especially if you start with the back or feet and work your way up...
4. Romantic getaway
Plan a weekend trip for just the two of you to break free from every day life. Spending time together in a new environment and going on adventures is romantic, plus it will give you an opportunity to focus on your relationship.
5. Be the man
Take action and tie her up! So many things you can do that she's going to love! Experiment with food, ice or candle wax... Just don't be too rough - unless you know that's how she likes it.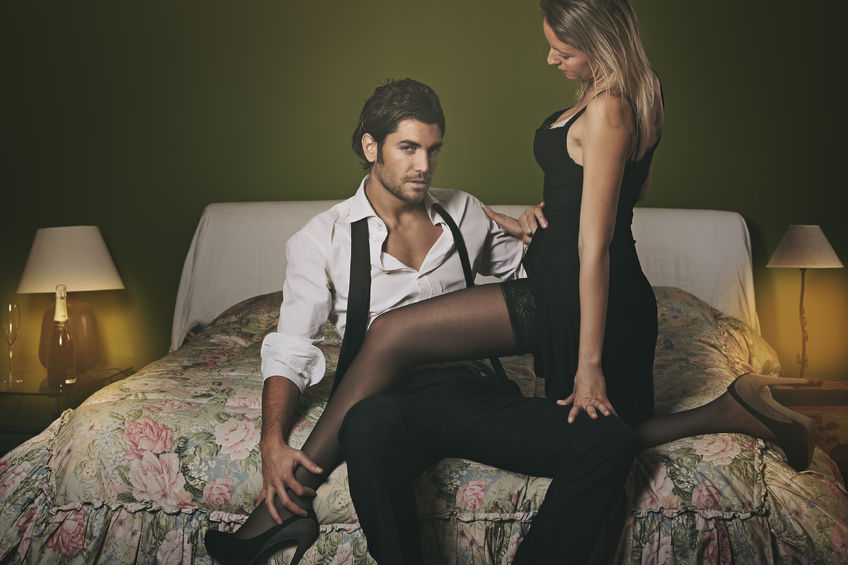 For her:
1. Red is the way to go
Representing love, sex and desire, it's a well-known fact that red attracts men (and women). Wear a bright red lipstick, or put on a short red dress and he won't be able to take his eyes (or hands) off you.

2.Lingerie
Sexy lingerie is not just for special occasions. Open the door wearing a corset, short skirt and fishnet stockings. Just make sure it's not the courier on the other side.

3.Naughty text
Surprise your man with a dirty text. Share one of your fantasies or tell him what you would like to do to him. If you're feeling adventurous, a quick picture of your lace bra will ensure that he won't want to watch TV or sit on X-box tonight!

4.Shower surprise
Join your partner in the shower or bath when he least expects it. If you really want to provoke him, jump in the water wearing a white cropped top.

5.Striptease
Yes, a good old striptease never goes out of fashion. Choose the best music, the right outfit and get to work!
Buy Condoms Online Right Here at Condomsales
No matter who you're seducing, it's a good idea to have a good selection of condoms on hand. Purchasing online means you can read up on product descriptions, check out specs, and basically find all the info you want to know. If you see anything you like, click the buy now button. Your condoms will be delivered quickly and discreetly.

For wholesale enquiries please phone us directly on 1300 4 CONDOMS (1300 4 266 366) or email us.

Seduce safely with the best range of condoms in Australia.